Check here for our inventory of used refurbished ice machines
At Denmark Heating and Cooling, we sell service and install many sizes and brands of ice making machines. We have been recommending American made Ice Machines for large residential and all sizes of commercial, industrial and institutional users for over 25 years. We have many sizes in stock in our warehouse in Westland Michigan, from 50 pounds per 24 hours to 200000 pounds per 24 hours.
Some of these machines come with a 2-year unlimited warranty with additional 3-year (5-year total) parts coverage on ice machine compressor. These are quality products made by Americans in America. We sell service and install all brands of ice machines with production up to 1000 tons per 24 hours, we also have machines which make block ice. We have machines which bag, grind, crush, load, dispense and store ice.
Our Service Technicians are factory trained on Manitowoc, Scotsman, Ice-O-Matic, Hoshizaki, Multiplex, Servend, Cornelius, Follett, Vilter, Vogt And More. Call Now For Fast Service And Repair, Or If You Need A New Machine, Delivery And Quick Installation, And Parts For All Brands.

Samples of Ice Requirements
Food Service Restaurant: 1.5 lbs. per person
Cocktail Lounge: 3.0 lbs. per person
Water service: 4 oz. per 10oz. glass
Salad bar: 30 lbs. per cubic foot
Fast food: 8 oz. per 14oz. drink
Lodging: Guest ice: 5 lbs. per room
Catering: 1 lb. per person
Healthcare: Patient ice: 10 lbs. per bed
Cafeteria: 1 lb. per person
Cement plant: 600 pounds per yard

The smallest of the family of ice cube machines are the mini-under-counter series. These machines are self-contained, air-cooled models that produce from 65lbs to 95lbs of dice cubes a day. These ice machines are designed to fit under a counter, behind a bar, or in spot locations like coffee shops, hotel suites or office break areas. The attractive stainless steel cabinet with its Euro design will fit into any decor.



Compact under-counter ice machines are ideal for small volume ice production, limited ice needs, or as a back up during peak business hours. Production for these air-cooled or water-cooled units ranges from 147 lbs to 290 lbs of ice regular, dice or half dice cubes in 24 hours. Bin doors slide up and out of the way allowing unobstructed access to the ice bin. These units are perfect when you need ice made on the spot and don't want to carry or haul ice from another location.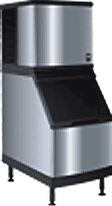 The slim 22″ wide ice machine save valuable floor space in small kitchens, hotel hallways or the office lunchroom — any place where space is a problem. These slim models may be slender, but they produce 340 lbs to 450 lbs of dice or half dice ice cubes a day.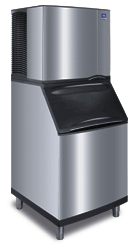 The 30″ Model ice machines are the workhorses of the standard size family of ice machines. They are large volume producers well suited for restaurants, foodservice, hotel ice dispensers or any application where ice is in constant, continuous demand.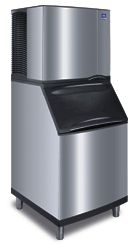 The 48″ wide ice machines are production powerhouses. Ice production ranges from 1450 lbs to 1880 lbs of dice or half dice cubes a day. These models are ideal for theme parks, institutional kitchens or cafeterias, resorts, casinos or any operation requiring a lot of ice on a continuous basis.
---
Nugget, Flake and Chiplet Ice Machines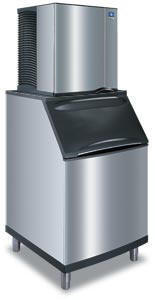 Up to 1,017 lbs. (461 kgs.) daily ice production. Only 22″ (55.88 cm) wide. Dimensions of nugget ice are approximately 3/10″ x 3/10″ x 1/2″ (8 x 8 x 12 mm) Nugget ice provides a softer, chewable texture while still providing maximum cooling effect. This machine's patented cleaning technology manages the cleaning process from start to finish. Evaporator is designed for maximum quality and operating life. Standard warranty 2-year parts and labor coverage on all components. Additional 3-year (5-year total) parts coverage on ice machine compressor
Flake ice is small, hard bits of ice. Chiplets are larger irregular shapes of hard compacted flake ice with an approximate ice size of 3/4″ x 3/4″ x 3/16″ (1.00 x 1.90 x.48 cm). Under-counter flake ice machine models produce irregular pieces of flake and chiplet ice with a soft degree of hardness.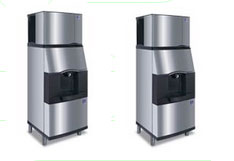 Modular dispensers are designed for ice bucket filling in hotels, motels, factories and resorts180 lbs. (82 kgs.) ice storage capacity. Accepts 22″ (55.88 cm) or 30″ (76.20 cm) wide ice machine. Only 30″ (76.20 cm) wide, 32″ (81.28 cm) deep, and 82″ high (208.28 cm). Built-in water valve and "Push For Ice" rocking chute dispense mechanism with quick on/off activation reduces in-flight ice and spillage. Efficient built-in agitator assures 100% dispensing. Efficient built-in agitator assures 100% dispensing. Oversized drain pan collects larger quantity of ice overflow. Ideal for hospitals, nursing homes, cafeterias, or any location needing a high-volume, self-service ice and water dispensing station.


WE SELL SERVICE AND INSTALL LARGE INDUSTRIAL HIGH CAPACITY ICE MACHINES

WE SELL SERVICE AND INSTALL ICE MERCHANDISERS

Before you can decide to buy a commercial ice machine, there are a few things you need to know about choosing the right option for you. An ice machine is a piece of must-have restaurant equipment if you are in the hospitality industry, be it a restaurant, hotel, resort or even a golf club. The various options available may at first seem confusing. Read on to know more about which ice machine will suit your need the best.
Ice Machine Basics That You Should Know
A commercial ice machine is used in many different places of business. Ice machines are used in office buildings, restaurants, country clubs, golf courses, schools, and the list goes on and on. Commercial ice machines, such as Manitowoc, are used everywhere you look and they are very important to the success of many different businesses. This being said, if you are in charge of choosing and purchasing a commercial ice machine, obviously, you will need to make sure you buy a reliable unit.
Commercial Ice Machines For Different Businesses
With the introduction of cutting edge and innovative technologies, a commercial ice machine is no longer a bulky device producing insanitation, consuming a lot of energy, making noise, and taking a lot of time to make the needed supply of ice. As a result of high-end technologies, commercial ice machines are able to achieve "being green" the highest levels of energy and water conservation. Now a commercial ice machine can easily produce from 65 pounds to 2,000 pounds of ice cubes in a day.
Ice Shapes
So after considering your quantity and space requirements, you now need to decide upon the shape of ice cubes, you desire.
The shapes on offer are Diced cubes, Half Diced, Contour cubes, Nuggets, and Flakes. Each of the different shapes is suited for different applications and has its own advantages. Diced ice is regular ice in the shape of cubes. It is commonly used for carbonated beverages, mixed drinks, ice displays, ice dispensing, banquet services and ice retailing. The Half Diced cube ice has a favorable liquid displacement. Contour cube ice is just right for carbonated beverages, mixed drinks, ice displays, ice dispensing and ice retailing. Their unique design reduces splashes as the contour shape encourages the liquid to flow over easily. Individual cubes make them easy to dispense.
Other Forms
Nugget ice or Sonic ice is the ideal choice for blended cocktails, bar fountain drinks, produce displays, salad bars, and even therapeutic needs. Its diverse uses are due to the fact that the ice melts slowly. It cools a drink faster without any foam formation. It is the right option for patient care and therapeutic needs. It also displaces more liquid, which could translate to better profits. The last of the lot is Flaked ice. It is the thing for seafood, produce and meat displays. It is also useful in blended cocktails and salad bars. Flaked ice can be easily molded to use for ice displays. As it cools faster than any other ice shape, it is ideal for therapeutic or patient use.
Under Counter Ice Machines and Their Uses
Today's hottest appliances have broken out of the box and are redefining the way Americans outfit their kitchens and homes. Imagine a never-ending supply of restaurant-quality ice. The under counter ice machine unobtrusively adds accessibility and convenience to your kitchen. The way an under counter ice maker will work is that it creates its gourmet-like ice cubes by water being continually circulated by a pump that gently sprays water into inverted ice cube molds. Only the water is frozen, leaving impurities in the bottom of the tray where it is washed away on the next ice making cycle. Under the counter, ice machines are compact enough to be installed under the counter. They are also self-contained ice machine units with a low capacity suited for smaller bars or even homes.
Commercial Ice Machines For Beginners
As you are looking to purchase a commercial ice machine for your restaurant, bar, country club or golf course or factory, there are some questions that you may have prior to your purchase to make sure that you are purchasing an adequate sized ice machine for the needs of your facility. Here are some common questions: How do I determine how much ice I will need for my facility? This is a question asked by many and we will provide some figures that are averages for proper ice levels, we will advise you on this.
A self-contained unit is a single unit, where the ice maker and the ice bin have been put together as a single unit. Typically the capacity of self-contained ice machines is much lower than that of the modular units.
Air Or Water Cooled ?, Ice Machines can be either air or water-cooled, whichever is chosen is dependent on the location of the machine and cost of water, for example, a machine located in a confined space or hot environment may need to be water cooled as the hot ambient reduces ice production and adds heat to the apace and increases strain on the machine. Many times ice machines in these types of locations can be air cooled with a remotely mounted condenser which rejects the heat of operation to an outside space, we can also advise on this.